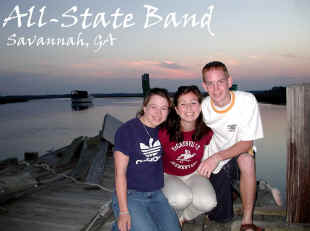 Congratulations
All-State Band Participants!

Alison D.; Clarinet
Amy T.; Clarinet
John M.; Percussion

These students were selected as among the most proficient on their instruments in the state in their grade levels. They attended rehearsals in Savannah, Georgia from May 2 to May 4, with a performance on Saturday May 4. Pictures from their weekend are provided below.


The beautiful Lucas Theater,
where Amy and Alison performed with the
All-State Concert Band.



The Savannah Civic Center,
where John performed with the
All-State Symphonic Band.